In case you missed it, Pink Jacket has had a busy 2022 and we are not done yet! Not that we are complaining, it's exciting to be getting back to working with our clients on bringing their brands to the digital realm. And for some, even creating the brand from their idea and desire to bring a dream to reality. Agency life can be full of obstacles and complex problems, but we pride ourselves on focusing on solutions and being a reliable resource for our amazing partners.
Here are the top three projects we feel especially proud of in the year '22:
#1. The 65th Monterey Jazz Festival
Pink Jacket has been this iconic organization's digital marketing partner since 2019. We created and managed their websites, social media channels, email marketing, and many other tasks associated with promoting the world's longest, continuously running jazz festival. As a non-profit, MJF has a 365-day-a-year initiative to provide programming including a large, educational component that gives young, up-and-coming musicians the support, learning, and performance space to grow their art. And of course, the festival itself is held in gorgeous Monterey, California every September!
We went through the first-ever canceled year in 2020 due to the pandemic, and we quickly worked with their dedicated staff to bring the festival to a virtual audience via YouTube. It was incredible to see all the fans donate in real-time to support the NAACP Legal Defense Fund, the Thurgood Marshall College Fund, and the artists who performed throughout the festival. Our channel subscribers grew to over 10,000 and we had over 20,000 viewers.
Then, as Covid continued to make full-capacity gatherings improbable, Monterey Jazz Festival held a half-capacity festival in 2021. Our two teams had many obstacles to overcome, and although it was hard work, it was incredibly rewarding to see a sold-out crowd enjoying jazz outdoors.
This year, we are geared up for the 65th Annual Monterey Jazz Festival being held back at full capacity on September 23, 24, and 25! The resilience of the people who run this organization and their fanbase is one of the reasons it is still going on after 65 years. Additionally, this festival understands the importance of keeping up with the changing digital landscape, and what that means to your communication and marketing channels.
More details on our WORK with this amazing organization. Or go to montereyjazzfestival.org for details about the festival.
#2. Bar Louie
Every day brings new changes, and that's a fact the marketing team at America's favorite Gastropub, Bar Louie, understands very well.
Bar Louie's existing website needed to become more functional – more in tune with their brand goals and nimbler to keep up with their promotions. On a visual level, they wanted the promotions and information to render perfectly – mobile or desktop. It sounds simple, but many websites on the internet have this issue of not being fully optimized for multiple device use. It was very forward thinking for Bar Louie to understand more and more of their visitors were using mobile devices to interact with them and take action to make it more user-friendly.
Another task was to make sure all 70 Bar Louie locations could be found within the site's internal location search. We were looking to ensure that customers get accurate location information by serving them a refined search result. This requires several components, both internally on the website as well as within Google Maps to achieve the desired results. When marketing observes data (like most visitors looking for a location), it's important to discuss those insights with digital site management so you can optimize for that query. It's a continuing conversation with a large, evolving restaurant group and Pink Jacket is always motivated to find technological solutions to increase a client's ultimate growth strategy.
The only constant in the hospitality industry is change – and understanding how to make a site quick, nimble, and malleable so users have the best experience possible makes Pink Jacket a popular agency for those whose business is serving food, drinks and entertainment.
Bar Louie WORK and their website.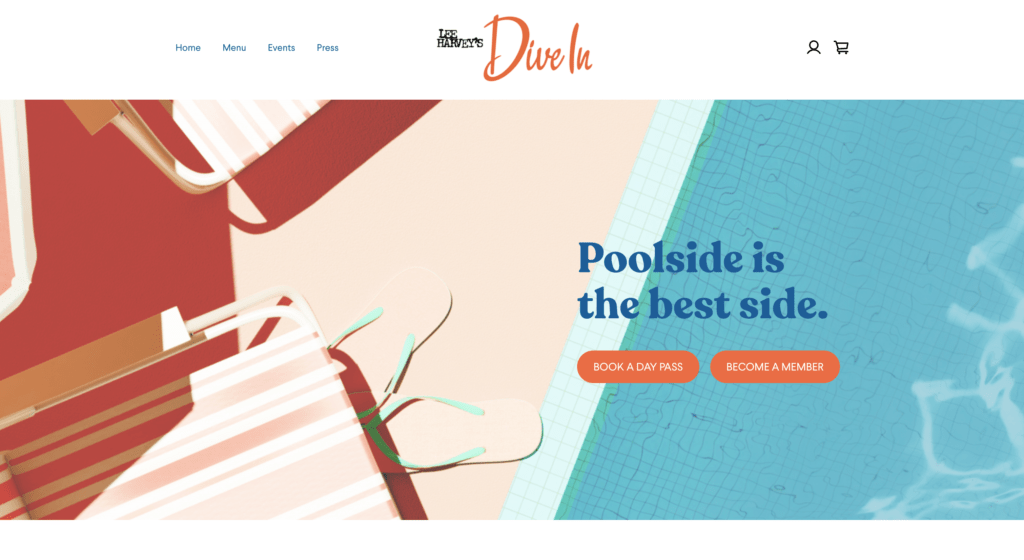 #3 Lee Harvey's Dive-In
From the creators of one of Dallas' most famous bars, comes Dive In, the social swim club located directly next door in the Cedar's neighborhood to Lee Harvey's. As a private club, visitors can buy a season pass or a day pass and purchase drinks and food while lounging in a mid-century inspired pool club setting.
It's always special to work with friends and the team at Pink Jacket was thrilled to be given the opportunity to work with such icons of the Dallas bar scene. It was a difficult scenario to find a solution – purchase passes online while still giving the cool, summer vibes that Dive In was all about.
Our first step after understanding the project was to look at several technology solutions that could incorporate IRL and URL – purchases in real life as well as online. Our team presented options to Dive In and Square was the solution that made the most sense. Throughout the web build, Pink Jacket communicated both with Square and Dive In on every operational aspect to make sure the launch was smooth and efficient. Sometimes, being a solution provider means researching and communicating exactly the desired outcome, and then weighing the pros and cons with the decision-makers.
Pink Jacket is committed to working with Dive In by providing ongoing improvements and changes to the site. Often, operations can lead to understanding the workflow, and then, one needs to look back to the site and alter the solutions to make business as efficient as possible. Ongoing maintenance is a key to profits!
Don't wait to check out Dive In! It's a perfect summer hang!